A Beginner's Guide to Wine Tasting
Wine lovers far and wide all face the same conundrum at some point in their lives. You have a number of go-to wines that you love to pop open at the end of a long week and enjoy, but as soon as you're faced with the never-ending wine list in a restaurant, you've got no idea where to start. And that's before the inevitably awkward moment where the waiter asks you to sample the bottle before they pour and you're supposed to look as if you know what to do! We're all aware you're meant to swirl the wine around the glass and smell the aromas before you sip, but what on earth are you meant to be looking for?
Enter wine-tasting classes for beginners – the holy grail for those looking to unlock a whole new level of wine appreciation and deliciousness.
Here, we've put together everything you need to know in our wine-tasting guide for beginners – from why to try it, to the best wine-tasting experiences on offer in the UK and a selection of our top tips for how to taste wine like a connoisseur. Cheers!
Why Try Wine Tasting?
Well, this is an easy one – because you love wine and you're ready to become a connoisseur! It's one thing to know you have a penchant for Rioja and Riesling, but it's an entire other ball game to tell them apart and explain how their various qualities and characteristics differ.
Just like learning any new skill, there's a method to the madness when it comes to evaluating wine and a number of steps you must take to train your palate to identify different aromas, flavours and other qualities. And while wine-tasting masterclasses are undoubtedly tasty experiences, they offer so much more knowledge than simply what an excellent quality wine tastes like.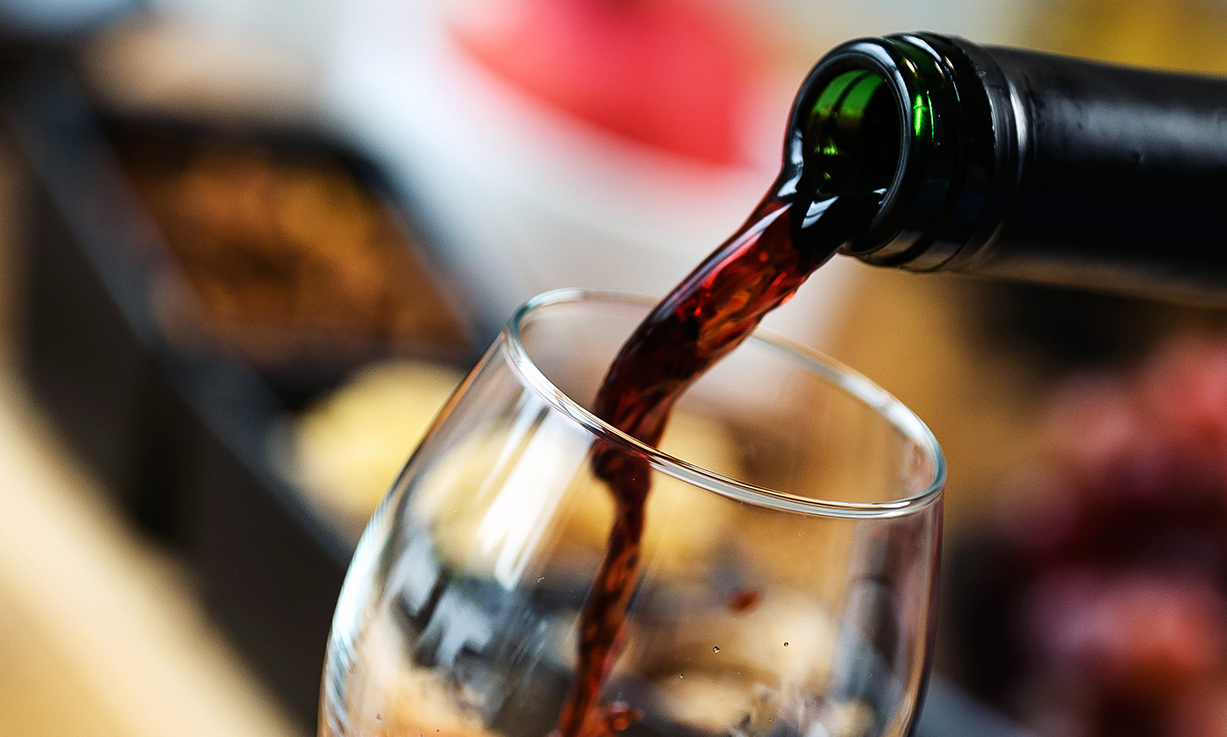 Wine-tasting classes are a glorious gateway to learning about the history of different wine-making regions across the world. It is an excellent opportunity to discover more about a variety of grapes and their characteristics and it will teach you how to engage all your senses to enhance your enjoyment, as well as so much more. Plus, you're sure to have an absolute hoot and make a myriad of new tipple-loving friends along the way.
Lots of good wine, good friends and good times are ahead of you. And what's more, you'll never go for the second cheapest bottle on the wine list and hope for the best again!
Where Are the Best Wine Tasting Classes for Beginners in the UK?
In short, there are incredible wine-tasting classes for beginners across the whole of the UK! From vineyard tours in scenic Shropshire to tasting masterclasses in Manchester and London, you'll be on cloud wine with our range of brilliant experiences. Here are a few of our most popular picks to whet your whistle.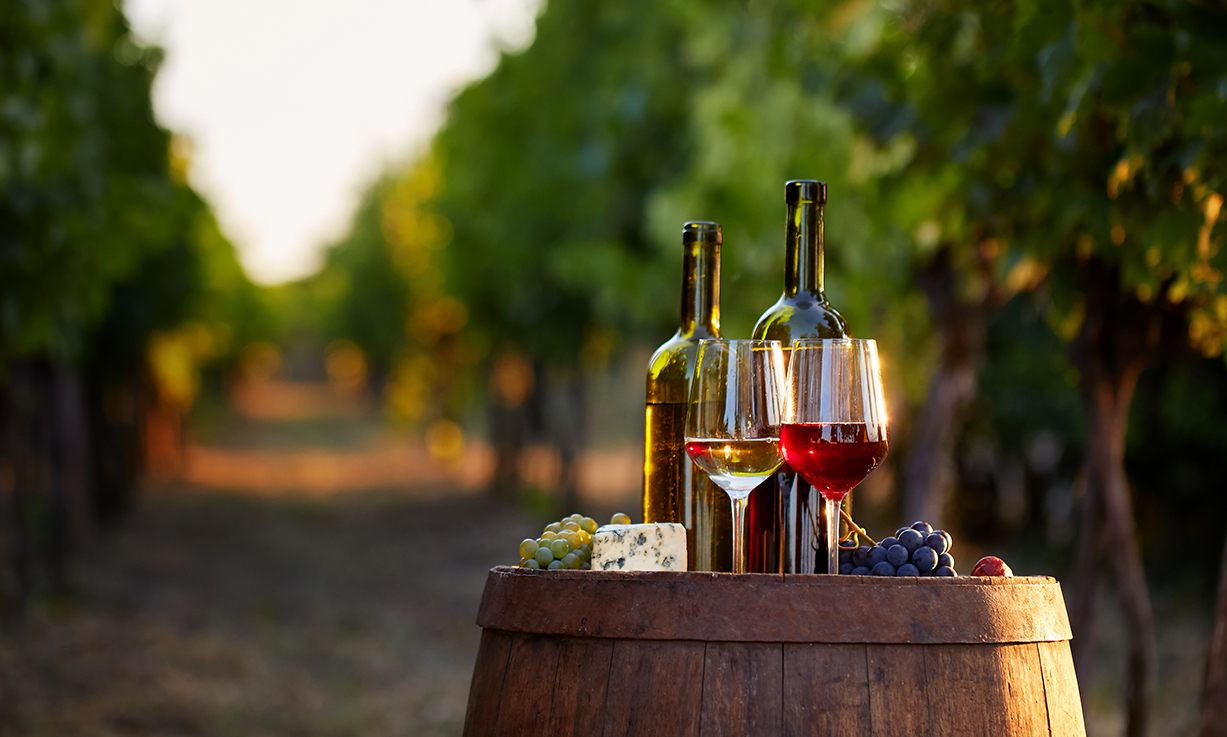 Fancy learning about ales and liqueurs too as you embark on your wine-education journey? Say no more. Located near Henley-on-Thames – an Area of Outstanding Beauty – you and a tipple-loving friend will enjoy a behind-the-scenes tour and tasting for two at Chiltern Valley Winery and Brewery. After being welcomed by your knowledgeable tour guide, you'll get up close and personal with brewing vats, wine presses and production processes and discover how different types of wines, ales and liqueurs are made. Before the day is done, you'll both have the chance to experience a tutored tasting of a range of Chiltern Valley's products right on site. And as if that wasn't enough, you'll also receive a 10% discount to use on the day – just in case you choose to take any bottles home with you. Cheers!
If you and your partner-in-wine love to revel in luxury, a trip to one of England's oldest and most revered wineries should go down a treat! This fantastic Chilford Hall vineyard tour in Cambridgeshire has everything a budding sommelier could ever wish for – interesting wine-making history and information, award-winning wines and stunning vineyards and beautiful gardens. You'll learn how to taste the winery's refreshing wines at the Chilford Wines and Bistro shop. There, an expert guide will show you how to tell the wines apart, how to identify tasting notes and provide tips and tricks for what to look out for when buying an excellent quality bottle in the future! After wine, it's time to dine, as you both tuck into a delicious afternoon tea for two at the venue.
Who springs to mind when you hear the phrase 'the world's best double act'? Laurel and Hardy? French and Saunders? Ant and Dec? Well, our friends, we're afraid you'd be wrong, as there is only one undisputed greatest duo of all time – cheese and wine. Prepare to celebrate this classic pairing in all its glory with this unforgettable cheese and wine tasting masterclass in Manchester. Spoil a special someone to an evening of delights as you both sample six full-bodied wines from around the world and pair them with a host of moreish artisan cheeses. Your expert guide will teach you all there is to know about each perfect pairing, helping you to understand how the different qualities of the wine and cheese can be altered or enhanced when they are consumed together.
If you're looking to begin your adventure of discovery into the wonderful world of English wine, look no further than this wine-tasting experience – Berkshire's largest winery and vineyard. Explore Stanlake Park's impressive production facilities and wander around their breathtaking walled vineyard, as you learn all about the estate's history and wine-making process from an incredibly knowledgeable sommelier, on hand to answer any questions you might have along the way. Your insightful tour will come to an end just in time for wine o'clock, when you and your guest will taste six quality wines – including a selection of white wines, rosé wines, red wines and sparkling wines – at the venue's gorgeous Wine Garden or cosy Cellar Shop to round off the day!
How to Taste Wine for Beginners: Our Top Tips for How to Evaluate Wine
The main thing to keep in mind when tasting wine is not to be intimidated! There's a lot to think about but you're not expected to know everything straight off the bat – it's one big, delicious and fun learning process.
To help you on your way before you book on to your first tasting masterclass, we've put together a short guide on how to taste wine for beginners below. So, what are you waiting for? Let's get started.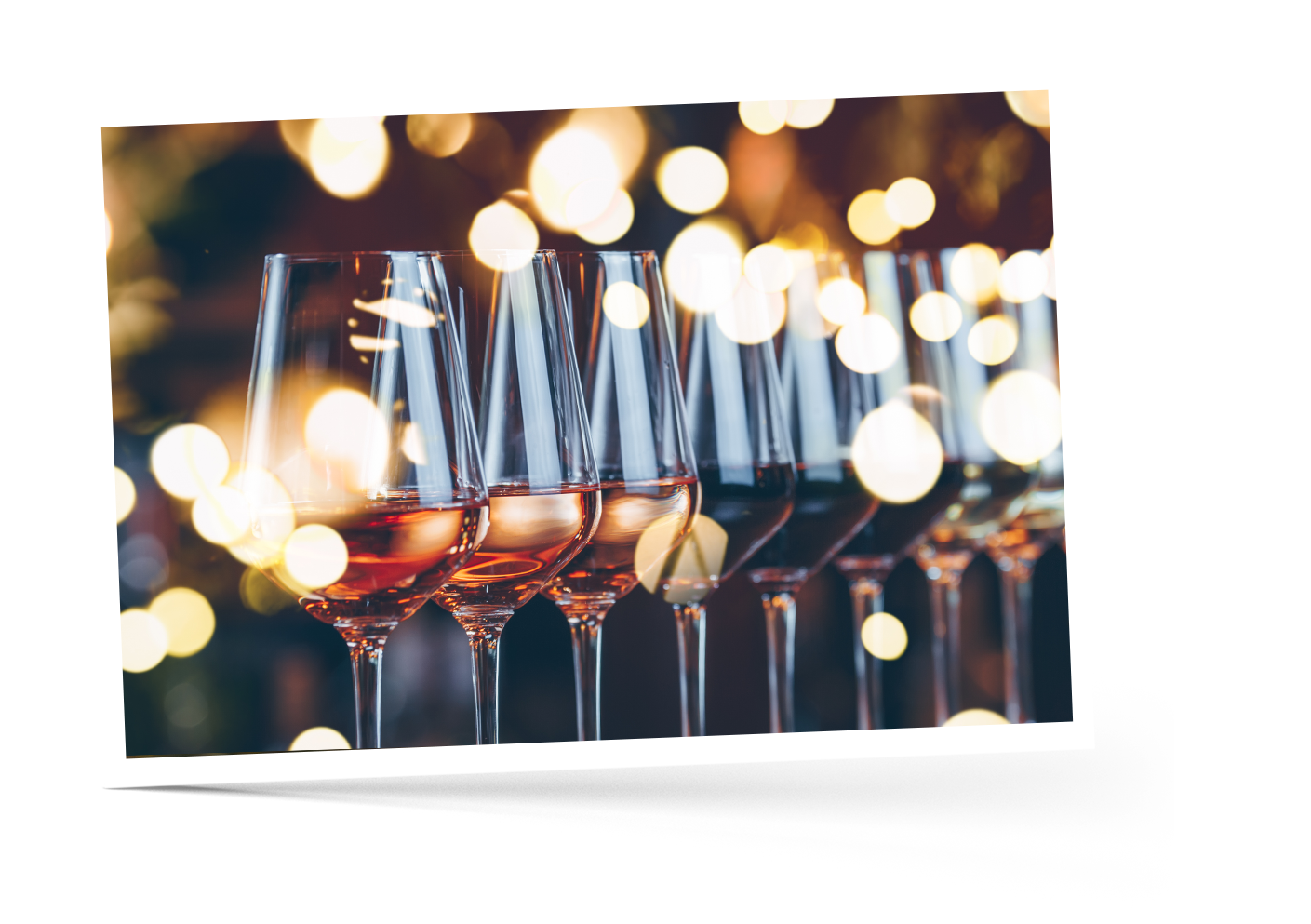 Set the mood First up, your wine-tasting conditions need to be just right. For best results, find a space that's full of natural light and free of loud, distracting noises or overpowering smells that could take away from the wine's aromas, such as strong perfumes, pet or food scents. You'll also need enough room to set out your different glasses and bottles, as well as a spittoon if required! Speaking of glassware, you'll also need to make sure you have the correct ones for the types of wine you're tasting. Red wines fare best in glasses with a large, round bowl that can fully capture their bold and complex aromas, while white wines suit smaller bowled glasses that better maintain cooler temperatures and preserve more delicate aromas.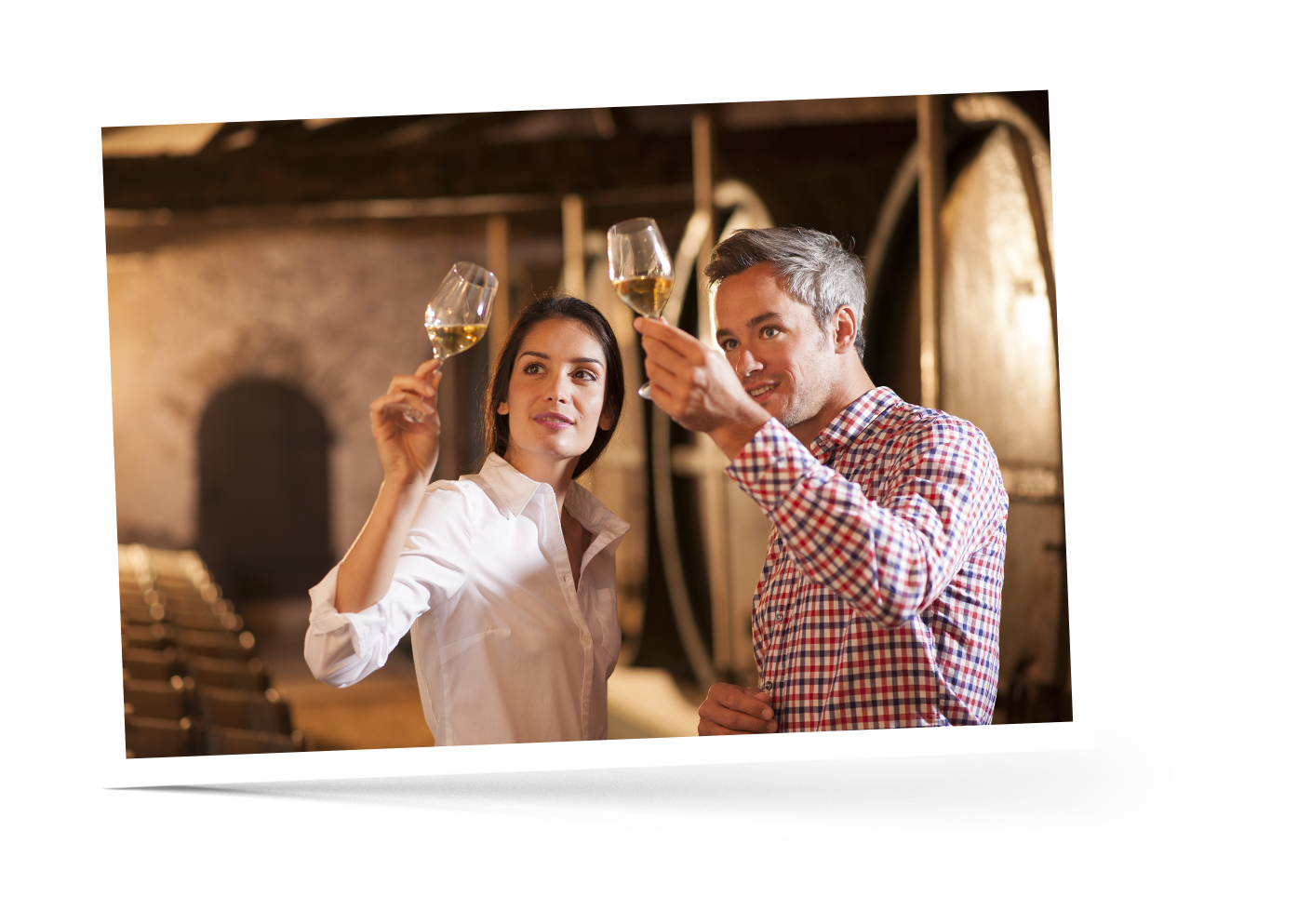 Assess the appearance Before you even think about having a good sniff or taste, take a close look at your wine. First, look straight down into the glass to get an idea of the wine's colour depth and intensity. For example, if you're tasting a red wine, can you see the stem of the glass from above? If not, you can conclude your wine is intense in colour and deeply saturated, suggesting it could be a Shiraz or Châteauneuf-du-Pape. Then, tilt your glass on an angle so that the wine stretches toward the rim – this gives you a better idea of the wine's true colour and can even help you to identify the wine's age. For example, a young red wine will take on more of a purple hue, whereas an older red often takes on more of a garnet shade as it matures.

Before proceeding, make a note of the colours you see and identify their intensity, from light to medium and high intensity. For white wines, these colours classically range from lemon to amber, gold and pale brown, whereas red wines can range from pale purple to deep red, through to tawny brown, ruby and garnet.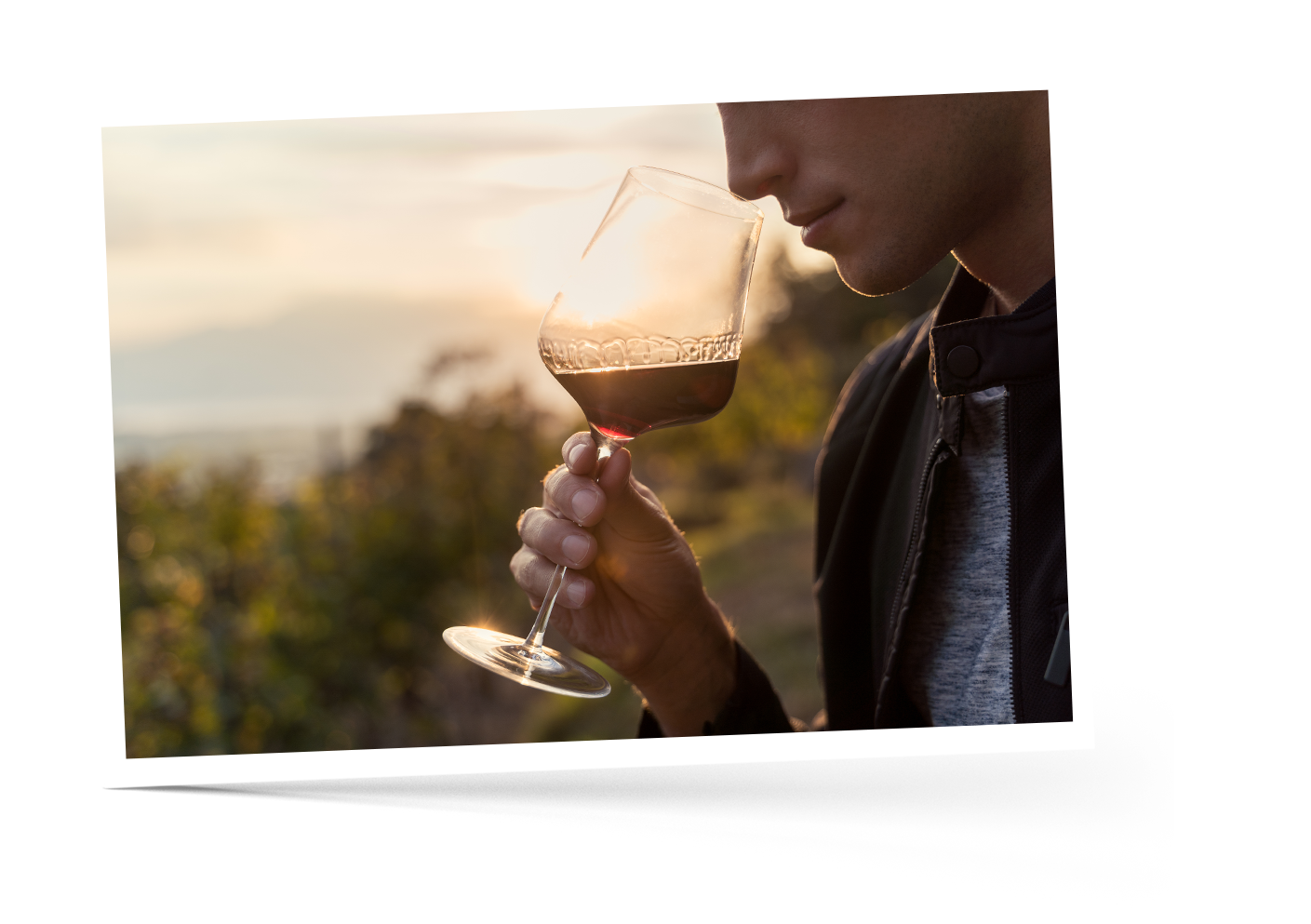 Soak up the aromas Next, it's time to engage your sense of smell and get sniffing! Give your glass a good swirl to release the wine's aromas and bring the rim of the glass to just beneath your nose. Smell the wine with a few sharp, short sniffs and make a note of what you can identify. The key here is not to overthink it! Each wine can hold hundreds of different aromas and it's not your job to seek them all out – instead, you want to try and categorise what you can smell.
Firstly, can you smell any flaws? A spoiled wine will smell like a damp room, a musty old rag or even have overpowering vinegar scents. If the wine isn't spoiled, look for fruit, floral and vegetal aromas next. If you're getting green fruit, citrus or floral scents, this often points to wine from cooler-climate regions such as Northern France or Germany, while more plummy or stone fruit scents indicate the wine originates from warmer climes, including Australia, Argentina or California for example.
Finally, can you identify anything to suggest the wine you are smelling has been oaked in a barrel? These scents can include toast, smoke, coffee, caramel or vanilla to name just a few! The majority of oaked wines will be red wines, however some white wines can spend time in barrels too, such as an oaked Chardonnay most famously.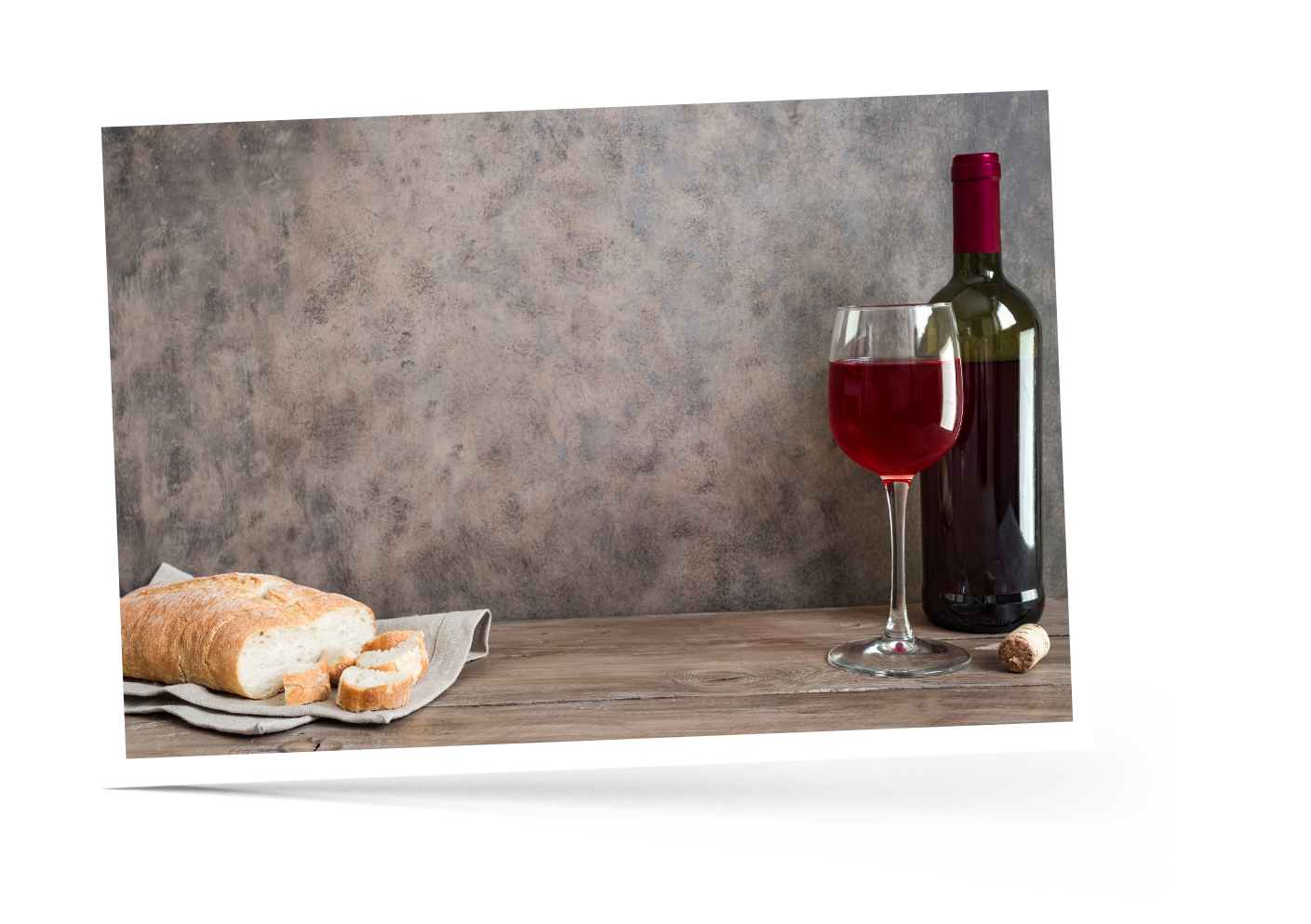 Prime your palate Before you taste, make sure your mouth is ready for action! If you've just eaten something strong or tried another wine, try eating a small piece of bread to neutralise your palate. Take a generous sip of the wine and swill it around your mouth, before sucking in some air as if you're drinking from a straw – slurping noises are most welcome! Taking in air aerates the wine and helps to intensify the flavours, making it easier for you to taste. Much like your sniff test, work your way through the various flavour types that are present, from fruits to herbs, flowers, vegetables and oaked characteristics.
Jot down your findings and take another sip, this time looking for some other aspects of the wine to help you assess its balance, complexity and overall quality. For example, on a scale of low to high, how intense is the wine's acidity? A great way to assess this is how refreshing you find the wine – does it make your mouth water? If so, chances are the wine has high acidity and typically comes from a cooler-climate region, whereas lower acidity, sweeter wines will most likely derive from warmer-climate regions.
Next, can you taste any tannin in the wine? Tannin is derived from the skins of the grapes used to make the wine and have a drying effect on the palate – very high tannin red wines will even make your teeth and gums feel dry! Tannin is again much more widely attributed to red wines, where the grapes are kept in contact with their skins throughout the wine-making process, as opposed to white wines which are separated from their skins to maintain their light colour.
Also, think about the wine's body (a fancy way of describing the mouth feel of the wine) and length of finish. A full-bodied wine will feel heavier, more syrupy and 'thick' in the mouth, whereas a lighter bodied wine will feel more fluid, watery and 'light'. The length of the wine's finish is simply how long its flavours remain on the palate after drinking. If the length is short, the flavours will disappear almost immediately after swallowing, whereas a long finish will have a length of around 30 seconds or longer.
Again, there's a lot to think about, but remember you're training your palate. All these different methods of wine tasting will become second nature in no time and this is precisely what a beginners' wine-tasting class is for – learning!
Searching for more wine tasting experiences to whet your whistle?
From vineyard tours to wine-tasting masterclasses and wine experiences for foodies, we're sure to have the perfect pairing for you within our complete collection of wine-tasting experiences.