Anniversary Gifts
An experience day is the perfect way to look back over your fondest memories while creating some incredible new ones. Browse through our great selection of gifts to make this anniversary one to remember!
Whether you're years into a loving marriage or have just hit that first big dating milestone, an experience day is the perfect way to look back over your fondest memories while creating some incredible new ones, but where did the trend of giving anniversary gifts come from in the first place?
Wedding Anniversary Presents - where did they come from?
Taking a trip back to the Middle Ages, in the Germanic regions of Europe a husband would crown his wife with a silver wreath on the 25th anniversary of their wedding day and, if the couple was fortunate to live long enough, a golden wreath on their 50th anniversary (romantic, right?).
Since then the list has been padded out to include a special material for almost every year of marriage, starting with eight key milestone marriages - which encompassed paper, wood, tin, crystal, china, silver, gold, and diamond - before the Jewellers of America later expanded the list to include every one of the first 20 years of marriage and every five years thereafter.
The reason for such a modest start, with paper in the first year, before gradually ramping up to precious metals and expensive jewellery is to represent the progressive durability of the marriage relationship. As the years go by, the gifts increase in strength and worth until arriving at diamond, in the 75th year, if you're lucky enough to reach it!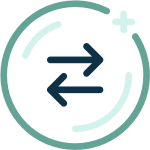 Gift now and enjoy when the time is right
Our experiences are fully flexible, with free and easy extensions and exchanges
How Many Years Has It Been?
10th Wedding Anniversary (Tin)
Drift back over the memories of your wonderful decade together as you float along serenely and stylishly with a Champagne Balloon Flight, or if you're still feeling young at heart then try an exhilarating Zip World Velocity to get your pulse racing as fast as the moment you first met.
25th Wedding Anniversary (Silver)
A quarter of a century spent in each other's delightful company is the perfect excuse to celebrate with the classy, cultured experience you've always wanted to enjoy.
30th Wedding Anniversary (Pearl)
You may not have pearls, but the world is still your oyster! Treat yourself and your devoted partner to an amazing gift experience as you look forward to many more happy years together.
40th Wedding Anniversary (Ruby)
Even if rubies are a little bit out of your budget there's no reason why your 40th anniversary can't be a chic, elegant experience that you'll both treasure forever.
50th Wedding Anniversary (Gold)
Well this is the big one, if they have made it this far then it is most definitely a time to celebrate. There's only one anniversary gift better than gold and that's creating some golden memories on this most special of occasions.