Delivering happiness, amazing people
About Us
It happens to thousands of people each week - an unsuspecting customer receives the gift of a life time from a loved one or colleague, but each experience is unique. We pride ourselves on our range of gifts, and the great experiences we can deliver to our customers. With over 500,000 gifts sold a year, we deliver happy memories to thousands! But to us Buyagift is about more than just delivering happiness, it's about the amazing Buyagift family we have built in our offices, and the close bonds we all have with our colleagues.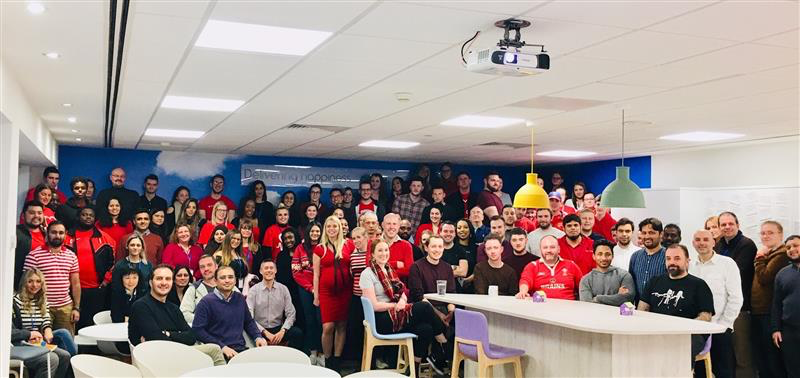 The Buyagift Love
"My view of business remains the same today as it was when the business started. We want to deliver happiness and amaze people. We work hard to keep all of our customers 100% happy and we often talk about 'the Buyagift Love'. I have always said that it is the team that makes a business great and I'm very proud of the team we have at Buyagift."
"Buyagift offers an amazing range of experiences to our customers, and a truly rewarding place to work for all the team here. I feel really valued at Buyagift and that my work always helps drive the business forward. It's great to feel valued and I am proud of the smiles we help put on the face of anyone enjoying our gift experiences"
"From regular charity events at work and Buyagift matching money raised, to getting us environmentally sustainable, this isn't a company that helps people just to look good in the media. Our CEO isn't just a suit, he's the same down-to-earth person that started the company and the ethos of the business hasn't changed, it's all about "delivering happiness". Now more than ever we are working hard to improve customer reviews to make sure there is never a reason to shop for a gift anywhere else. Likewise our HR team sends out anonymous surveys each week to make sure that the company is also improving for staff. All of this should tell you one thing… Buyagift is a company that really cares!"
"Buyagift is by far the best company I've worked for. I couldn't ask for a better group of people to work with and work for. I feel appreciated and I like the fact your ideas get listened to, rather than dismissed. I never thought there would be a day where I would genuinely look forward to going to work but work here is 'fun' so I never dread going to work on a Monday!"
"Buyagift is a company driven by exceptional ethos. A supportive environment that follows the motto "Deliver happiness -amazing people" for customers, partner & employees. A great HR that helps you stay connected all times and always keen to innovate. You can only be proud to be part of the Buyagift Community!"
"In our fulfilment team, the Customer 's satisfaction is the priority concern. Thanks to outstanding team work, we take delight in making our Customer's happy by getting their orders to them in super quick time!"
"I feel both proud and privileged to be part of such a fantastic team at Buyagift. We work exceptionally hard to deliver 100% customer satisfaction and pride ourselves on being completely focussed on Delivering Happiness. The amazing culture we have at our offices only serves to create a happy team committed to being on this journey and being the best we can be. We love what we do and take great pleasure in providing fantastic experiences – both customer and gift!"
"Can honestly say that working at Buyagift is the most fun I have had in any job, there's always something fun going on in the office or after work. They really do care about you as an individual and encourage you to develop your skills and progress. The best thing about working at Buyagift is really believing in what we do, we really do deliver happiness!"
"Buyagift is a company driven by exceptional ethos. A supportive environment that follows the motto "Deliver happiness, Amaze people" for customers, partner & employees. A great HR that helps you stay connected all times and always keen to innovate. You can only be proud to be part of the Buyagift Community!!"
"Our account managers build amazing relationships with the fantastic partners we work with ensuring we offer the best experiences in the market. We have partners that we have worked with since the business started and we like to think of them all as part of our family."
Awards We've Won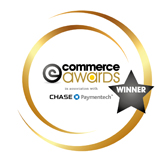 eCommerce Awards
Buyagift.com were delighted to scoop not one but four awards at the prestigious eCommerce Awards for Excellence.
The eCommerce Awards for Excellence is the most highly regarded event in the ecommerce calendar. Now in its 7th year, the Awards celebrate the very best the industry has to offer from groundbreaking innovations and campaigns to customer service excellence and revenue growth.
Buyagift.com won awards in the following categories:

·Best General eCommerce
·Best Marketing & Advertising eCommerce Campaign
·Pureplay eCommerce Company of the Year
·The eCommerce Gold Award

The Gold Award is stated as 'the best of the best' and is selected by the judges from all of the submission entries into the awards. The judges look for a company that has made the biggest impact in e-tail in the last 12 months, through a combination of online marketing, site innovation and implementation of a clear customer engagement strategy, including social media and mobile technology.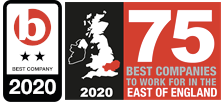 Best Companies
Best Companies have been producing and publishing the 'Best Companies to Work For' lists since 2001 to measure and acknowledge excellence in workplace engagement. Each year hundreds of organisations from a wide range of industries use this employee survey to measure the engagement of their employees. The response from these surveys are collated to produce an overall engagement score for each organization. For 2020 Buyagift achieved a Two Star rating . A 2 star accreditation is the second highest standard of work place engagement representing organisations that strive for the top. We are also ranked 48th among the top 75 companies to work for in East of England. We are so very proud of our achievements and could not have done it without our amazing team here.
2020 Quality Mark
The Payroll Giving Quality Mark celebrates the achievements of employers that have adopted and successfully promoted Payroll Giving schemes in their workplaces, and have enabled their employees to give to the charities that matter most to them. The Quality Mark provides a benchmark of achievement, celebrates good practice and recognises employers who operate exceptional schemes. Every employer that offers a Payroll Giving scheme to their employees is eligible to receive a Quality Mark. Employers that achieve certain benchmarks are eligible to apply for a Bronze, Silver, Gold or Platinum Quality Mark. And we achieved a "Silver" award.
Corporate Info
At Buyagift we want the fun to extend to all areas of your life - that's why we also have a Corporate team who specialise in incentive schemes, loyalty rewards, team building activities, long service awards, corporate gifts and prizes. Our corporate team work with large and small companies to serve a range of needs, as well as offering competitive discounts and an unbeatable service to help you serve your clients more effectively. Check out their website here...