The Best Afternoon Tea Delivery
How to Have Afternoon Tea at Home
The perfect excuse for a catch up over a cup of specialty tea and to tuck into some moreish finger sandwiches, fluffy scones and exquisite cakes, the afternoon tea has long been the epitome of quintessentially British indulgence. While this traditional treat is most often enjoyed in luxurious hotels, stylish restaurants and idyllic spas, we see no reason why the UK's much-loved regal dining experience shouldn't also be enjoyed in the comfort of your own home!
With an afternoon tea delivery service, there's no need to get dressed up or even leave the house, as a letterbox gift filled with sweet treats and savoury delights is sent to you in a beautifully presented package. Once you have unwrapped your delectable delivery and had a hungry read of any instructions, it's over to you to boil the kettle, warm up your scones and relax in luxury.
Here, we've put together everything you need to know about how to have afternoon tea at home and satisfy your sweet tooth. Whether it's about time you treated yourself to something special or you're looking for a thoughtful gift for friends or family, we've got you covered! All that's left to ask is, should you put jam or cream on your scone first?
Best Afternoon Tea Delivered to Your Door
Restaurateurs, chefs and bakers alike are increasingly crafting the most delicious home delivery packages for scone lovers and finger fancy aficionados across the UK. Luckily for you, in this blog we've put together a selection of the very best afternoon teas delivered to your door so you can secure a slice of the tasty action for yourself!
But before we take a look at the sweet and savoury delicacies on offer, what is it that makes these letterbox gifts so great?
Receiving an exciting package filled with treats in the post adds a fantastic layer of flexibility to this otherwise traditional ceremony. While it's fun to dress up in your fineries for a day out on the town, there's something extra special about the thought of indulging in a delightful array of scrumptious sandwiches and flavourful cakes while wrapped up in your dressing gown in front of the telly.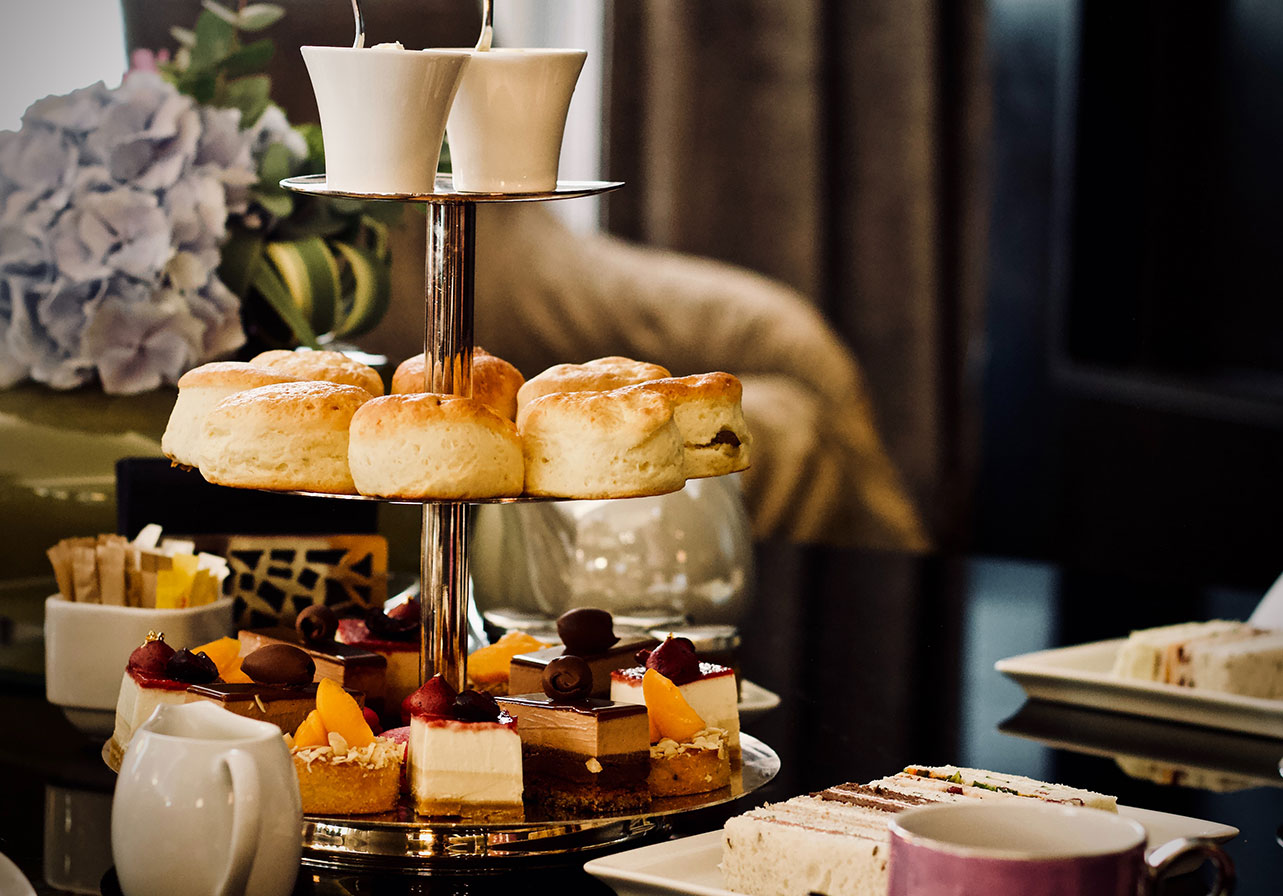 A letterbox afternoon tea is also an ingenious way of avoiding the hassle of negotiating reservations, waiting patiently in line for a table, or catering for specific dietary requirements or tastes. Does a loved one have a busy lifestyle and is looking for a way to unwind? Looking to curate a date night with a difference? Or do you simply want to surprise a loved one with a sumptuous stay at home treat? Whatever the reason, these delicious deliveries are the answer to your private dining experience prayers.
What Different Types of Afternoon Tea are Available?
When it comes to afternoon tea at home, there's no one size fits all. From classic cream teas to quirky hampers, dainty vegetarian delights and virtual vegan cooking classes, there are plenty of options available that cater to all different tastes and dietary requirements!
For a classic dining experience in comfort, look no further than this delightful Afternoon Tea for Two at Home with Piglet's Pantry. After all, what could be sweeter than spoiling a special someone with tea, sausage rolls and cake, all whilst sat on the sofa? Tuck into a slice of British tradition, with freshly made treats including ham hock and mature cheddar quiches, Scotch eggs, a selection of decadent cakes and of course – scones!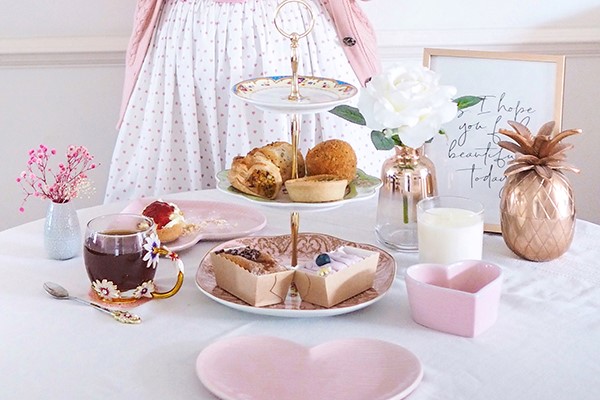 There's no need for meat-free friends and family to miss out on all the fun with this Vegetarian Afternoon Tea for One at Home with Piglet's Pantry! Delivered right to their doorstep, treat a loved one to a scrumptious surprise that's sure to put a smile on their face. From cheese and chive tarts, to mini veggie rolls, carrot cake, specialty tea and scones with clotted cream and Tiptree strawberry jam, this is the ultimate stay at home feast for one.
Or, for an interactive twist on afternoon tea at home, why not treat a loved one to a lesson on how to cook their very own delectable vegan dishes? This incredible Online Vegan and Plant Based Cookery Course in a Virtual Classroom for One will have them discovering the delicious magic of vegan cuisine, including which ingredients to use and how to present creations beautifully on the plate. They'll be taught how to make their own spring risotto, seasonal soup and stunning fine dining feast. Bon appétit!
Top Afternoon Tea at Home Experiences Handpicked by the Buyagift Team
With so many tasty options on offer, it can be hard to know which experience to choose. So, to help make the decision a little easier, we thought we'd share a few of our favourites! Here, we've handpicked some of the best afternoon teas to enjoy from the comfort of home so you don't have to.
Invite friends over for a fancy feast with this traditional Afternoon Tea for Four at Home with Piglet's Pantry, where the dress code is strictly slippers, fluffy robes and skin care masks! Indulge in a selection of award-winning nibbles sent straight to your door, from quiches, sausage rolls and chocolate to caramel drizzle cakes, scones and specialty teas. The perfect excuse to get the gang together, there's nothing quite like a catch up over cake.
Or, for a self-care special delivery, why not luxuriate in a luscious Afternoon Tea for One at Home with Piglet's Pantry? Spread a little joy with tea, cake and scones – and even better, there's no need for sharing! Pop the kettle on and brew up the refreshing Teapigs tea bags provided, before devouring all of the glorious goodies in front of a favourite film or box set. Home deliveries don't get more decadent than this.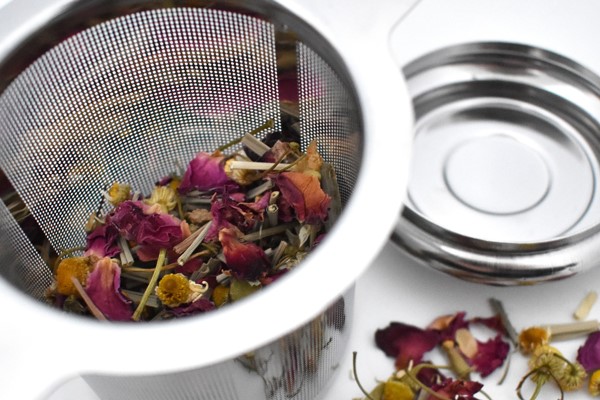 If the idea of cake-related perfection is a tower of tiered cheese wheels for your special someone, this is the afternoon tea home delivery for them. This dreamy Letter Box Cheese, Tea and Cake Gift Box is jam-packed with delicious delights, including creamy Lancashire cheese, rich fruit cake, homemade preserves and two specially blended teas – the aromatic Tranquil Love Tea and the sweet, floral Infinite Love Tea. Plus, you'll even receive a tea strainer to help you serve up the perfect brew!
How We Test and Rate Our Afternoon Tea Home Delivery Experiences
At Buyagift, we look for quality experiences guaranteed to make memories and bring smiles to faces! When it comes to afternoon tea, we really know our stuff, so you can rest assured that our handpicked experiences are up to the task.
First and foremost, we test and rate letterbox afternoon tea experiences based on the quality of ingredients used – only the very best will do and these delectable treats should taste just as fabulous as if you were enjoying them at a restaurant.
Alongside quality, we also have a keen eye for presentation and take into account how suitable the delivery would work as a gift for a special occasion. Finally, our team is always on the lookout for a spark of imagination – whether in the menu, presentation or packaging – to ensure that each and every home dining experience available at Buyagift has a certain je ne sais quoi and is as memorable as it is tasty!
Searching for More Delicious Food and Drink Delights?
For more afternoon tea inspiration – from details of its history, to what to expect and the best experiences available – be sure to get up to speed with our comprehensive Afternoon Tea Guide. Or, if all this talk of food has your stomach rumbling, why not explore our entire range of incredible food and drink experiences that are sure to whet your appetite?