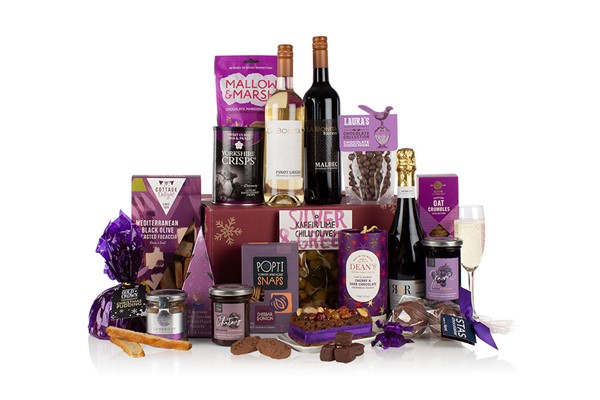 A Touch of Class Carton Hamper
11294280
Overview
This luxurious hamper is classy, indulgent and even more delightful to devour! Filled to the brim with tasty treats and festive fancies, it's sure to be a showstopper at a Christmas party. Including something for every member of the family, you'll find lime and chilli olives, sweet cured ham and pickle crisps, red onion marmalade and more. Sweet tooth calling? Indulge with chocolate-covered marshmallows, cherry and dark chocolate shortbread, a classic marzipan-topped cake, stem ginger and oat crumble biscuits, dark chocolate treats with hazelnut ganache, and of course, it wouldn't be Christmas without a traditional Christmas pudding. Get the festivities flowing with a bottle of Argentinean Malbec and crisp Pinot Grigio. What more could you want?
What's included?
A Touch of Class Carton, packed full of delicious festive food and drink
Contents include:
- Prosecco R&R Robert & Reeves Italy 75cl 11% vol
- Malbec Reserve La Bonita Argentina 75cl 14.5% vol
- Pinot Grigio La Bonita Argentina 75cl 13% vol
- Cambrook Brilliantly Hickory Smoked Almonds 95g
- Cottage Delight Mediterranean Black Olive Toasted Focaccia 100g
- Deans Cherry & Dark Chocolate Shortbread Rounds 125g
- Highfield Preserves Blackcurrant Jam 320g
- Highfield Preserves Red Onion Marmalade 220g
- Gold Crown Christmas Pudding 350g
- Gold Crown Decorative Jewel Cake with Toasted Marzipan Leaves
- Keats Luxurious 65% Dark Chocolate Treats with Hazelnut Ganache 125g
- Laura's Confectionery Chocolate Collection Chocolate Covered Raisins 150g
- Mallow & Marsh Chocolate Marshmallows Coated In Milk Chocolate 100g
- Popti Cornish Bakehouse Snaps Cheddar and Onion 120g
- Reids Stem Ginger Oat Crumbles 150g
- Silver & Green Kaffir Lime Chilli Olives 220g
- Stas Hot Cocoa Bombs 80g
- Yorkshire Crisps Sweet Cured Ham & Pickle Crisps 100g
- Packed in a festive postal carton
What do I need to know?
Gift dimensions: W: 429mm H: 342mm D: 211mm
Minimum age: 18 years
Contents may contain allergens, please check the ingredients list attached here
Contents may vary slightly due to supply
Please note, this product is non-refundable and non-exchangeable
Already got this voucher?
A Touch of Class Carton Hamper