Petiquette
Staying in a hotel with your dog
In the UK, 24% of households are dog lovers. That's almost one in four homes that count their four‐legged friend as part of their family.
The power of the hound pound
Lavishing the furriest members of their families with accessories, gifts, and luxurious experiences, is becoming fabulously popular with pet lovers. Spending on pets has increased by a huge 25% since 2010, with a massive £7 billion showered on our furry friends during 2015 in the UK alone. As such, business is booming for dog groomers, walkers, sitters, and sellers of specialist pet foods.
Hotels are responding to owners wanting their woofers to tag along on a luxury weekend break with them, by offering pet-friendly accommodation. PetsPyjamas, the 'pet lifestyle website' has reported a triple digit growth in requests for dog-friendly travel. Although unfortunately not all hotels are pet‐friendly just yet.
Booking a hotel for your dog
When planning your family break, it's advisable to check the hotel's pet policy before you book. If your hotel of choice is not made aware, prior to booking, that you intend to bring your furry companion with you; they will be under no obligation to accommodate your dog. Having them confirm they are indeed pet‐friendly and that your cultured canine is welcome, will put your mind at rest and avoid issues on arrival.
Petiquette
Your dog will be expected to behave at all times and not cause any disruption to other hotel guests. Even the most pet friendly hotels have restrictions and a code of conduct that your dog will be expected to follow, otherwise he may be asked to leave. Read our guide to staying in a hotel with your dog to ensure your trip goes according to plan.

Pet‐friendly hotels in the UK
To make it easier, we've done the leg work for you! We've sniffed out some of the best dog‐friendly hotels around and listed our favourites in the different categories, from pooch‐pampering luxury spa hotels to paw‐fect city break stays.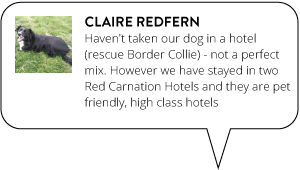 Hotels with a dog spa
Country retreat
For the ultimate in pooch pampering, a luxurious spa break at the Raithwaite Estate Country Retreat in Whitby rates really highly on our wagometer! You'll enjoy the opulence of the main hotel, with several dedicated pet‐friendly rooms throughout. You can even send your pup to pamper heaven in the Dog Spa. Upon arrival, you'll be greeted with a warm welcome from the resident dog, Raithwaite, who'll be eagerly awaiting his canine guests at reception.
In the room: Dog bed, bowl, biscuit Special pet menu: Yes
Charge: £15 per night, per dog
Spa package: Price based on size of dog
There are no restrictions on the number of dogs per room ‐ their most recent guest arrived with five Chihuahuas!
Raithwaite Estate

City break

Sophisticated city‐loving dogs can enjoy a day of luxury at the Pet Spa in London whilst staying at Egerton House Hotel. If a pet pedicure and minty fresh breath treatment isn't tempting enough, the Egerton welcomes all dogs as VIPs (very important pets). They also accommodate unusual requests, and strive to provide anything their furry guests may require.
In the room: Bed, bowl, blanket, toys
Special pet menu: Yes
Charge: No charge
Spa package: £99
Dog walking/sitting: Yes, both
No limits on dogs per room, depending on room size.
Egerton House Hotel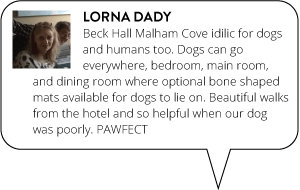 For the upper‐class canine
Posh pooches The charming country residence of Cliveden House is where the poshest of pooches will aspire to stay. A historic house, most famous for its part in the Profumo affair, the Cliveden will ensure your dog has a memorable stay. Their chef's special menu even goes as far as offering your canine companion luxury dinners like fillet steak and pan‐fried chicken. A map of walks surrounding the local area is also conveniently left in the room. Don't forget to wear your best collar!
In the room: Bed, bowl, blanket, leads, treats, toys
Special pet menu: Yes, included in price
Charge: £35 per dog, per night
Dog walking/sitting: Yes, both
Two dogs per room restriction. One‐year‐old and above.
Cliveden House


Best London hotel:
Very Important Pets
Red Carnation hotels in London, excel in the eccentricities of pet‐friendliness. The Rubens Hotel even has a dedicated Pet Concierge. Dogs will also receive their own welcome hamper and letter. Once in the room, you can expect a custom made Rubens Hotel pet bed and even a turndown treat. Upon checkout, your pup will be presented with his own framed photo and certificate of his stay as a keepsake.
In the room: Welcome hamper, letter, bed, bowl, treats
Special pet menu: Yes
Charge: No charge, but a £500 deposit
Dog walking/sitting: Yes, both
One large dog or two small dogs per room.
Rubens Hotel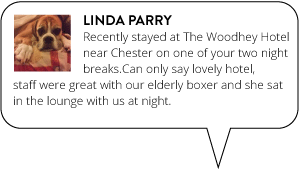 Pet Pin Up
Cheval Three Quays provides all four‐legged friends with a comfy bed, water bowl, mineral water, a warm throw and dog treats. They told us they 'have noticed that these small touches make pets feel instantly at home and guests have commented that this makes pets' behaviour remain constant and content.'
Each month the most impressive pet is awarded #ChevalPetPinUp as an added incentive for them to be on their best behaviour!
In the room: Bed, bowl, blanket, treats
Special pet menu: No
Charge: £40 per stay of 7 days for pet cleaning
Dog walking/sitting: Yes, sitting
No limit on dogs per room.
Cheval Three Quays


Best Budget chains
The best of the budgets are Days Inn and Ibis, who both accept dogs at all their hotels. Unfortunately, as no‐frills hotels, they won't offer any extras such as menus, beds or bowls. BYOB!
Days Inn: £10 per night supplement
Ibis: One dog per room at a supplement
Travelodge, Best Western and Holiday Inn have a policy that whilst some of their individual hotels are pet‐friendly, alas not all are.
Premier Inn and Jury's Inn have a resounding no dog policy.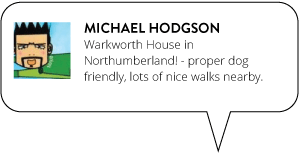 Best of the rest:
Holbeck Ghyll
As a luxury hotel in the Lake District, they welcome well‐behaved dogs into a selection of dedicated rooms. A welcome pack is provided along with a list of local walks exploring the best the lakes has to offer. Holbeck Ghyll has a policy of treating dogs with the same courtesy as their human guests.
In the room: No extras on the standard package, BYOB
Charge: £25 for one‐night stays, more than one night is free
Upgrade to VIC: £50 per dog
A VIC (Very Important Canine) package includes a luxury bed, Mungo and Maud blanket, bowl, organic treats and a Mungo and Maud toy to keep.
Special pet menu: No
Dog walking/sitting: No
Two dogs per room limit.
Holbeck Ghyll


Armathwaite Hall
Our second luxury Lake District country house is situated on the edge of the Bassenthwaite lake. Well‐behaved dogs receive a warm welcome by the hotel. Pampered pooches have been known to order cooked breakfasts and sparkling water, so Armathwaite is experienced in meeting the requests of its four‐legged guests.
In the room: Bed, bowl, treats, poop bags
Charge: £15 per night, per dog
Special pet menu: No
Dog walking/sitting: No
Two dogs per room limit (can be flexible).
Armathwaite Hall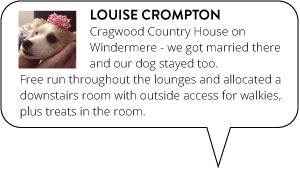 South Lodge Hotel
A five‐star country house hotel in Horsham, West Sussex, boasts their very own Great British Menu star chef for all the foodies out there. South Lodge offers dedicated dog‐friendly rooms with direct access to the grounds. Dogs are welcomed with their own bed, bowl and a special treat.
In the room: Bed, bowl, treats
Special pet menu: No
Charge: £50 per dog
Dog walking/sitting: No
Flexible on the limit of dogs per room.
South Lodge Hotel


Elite Hotels Group
Tylney Hall, Luton Hoo and Ashdown Park are all luxury country house hotels belonging to the Elite Hotels group. Dogs are welcomed at all these hotels in garden suites that open directly onto the grounds. Doggie packages include bed, bowl, toy, treats and special chef‐prepared meals.
A map of walks in the local area, as well as dog‐friendly pub listings, are also provided.
In the room: Bed, bowl, treats, toy, dog food
Special pet menu: Yes at Ashdown, No at Luton Hoo and Tylney Hall
Charge: £30 per night, per dog (£25 at Tylney Hall per dog)
Dog walking/sitting: No
Two dogs per room recommended.
Tylney Hall
Luton Hoo Ashdown Park

Luxury Family Hotels Group
Both the Fowey Hall Hotel and the Ickworth Hotel are owned by Luxury Family Hotels and focus on distinctive retreats for families. As four‐legged friends are part of the family too, dogs are welcomed provided they are well behaved around children.
In the room: Bed, bowl
Special pet menu: No
Charge: £15 per dog, per night
Dog walking/sitting: No
Limit of dogs per room depends on room size.
Fowey Hall Hotel
Ickworth Hotel

All information is correct at the time of publishing. Please check with the hotel before booking to ensure policies have not changed. We cannot be responsible for any changes of information after publication.