The Ultimate Lake District Travel Guide
The Ultimate Lake District Travel Guide

UNESCO may have only named it as a World Heritage Site in 2017, but the Lake District has always been one of the most beautiful natural wonders of the world.
Boasting mirrored lakes that stretch for miles, a rich literary history, wild swimming and the home of Beatrix Potter, this awe-inspiring corner of Cumbria has inspired walkers, travellers and artists for centuries.
Here, we've put together the ultimate guide of the best Lake District attractions, from where to visit, things to do and where to rest your tired legs after a long day of wearing in your walking boots.

Places to visit in the Lake District
Looking for some locations to pad out your tour of the North? We've done the hard work for you and pulled together our pick of the very best places to visit in the Lake District, from enchanting waterfalls to the UK's longest lakes.
1. Windermere A natural beauty with celebrity status, Lake Windermere is England's longest and most celebrated lake both in real life and in literature. Located in a small town of the same name, Windermere stretches over a vast 10.5 miles in length and is a coveted summer holiday escape for adventurers, climbers, photographers, poets and landscape lovers alike.
But Windermere is so much more than just its breathtaking terrain – there are a whole host of amazing activities on offer! Grab your walking boots and scale nearby Orrest Head, hop aboard a lake cruise to see Windermere on the water or walk in the footsteps of Beatrix Potter with a visit to her home at Hill Top on the lake's west shore.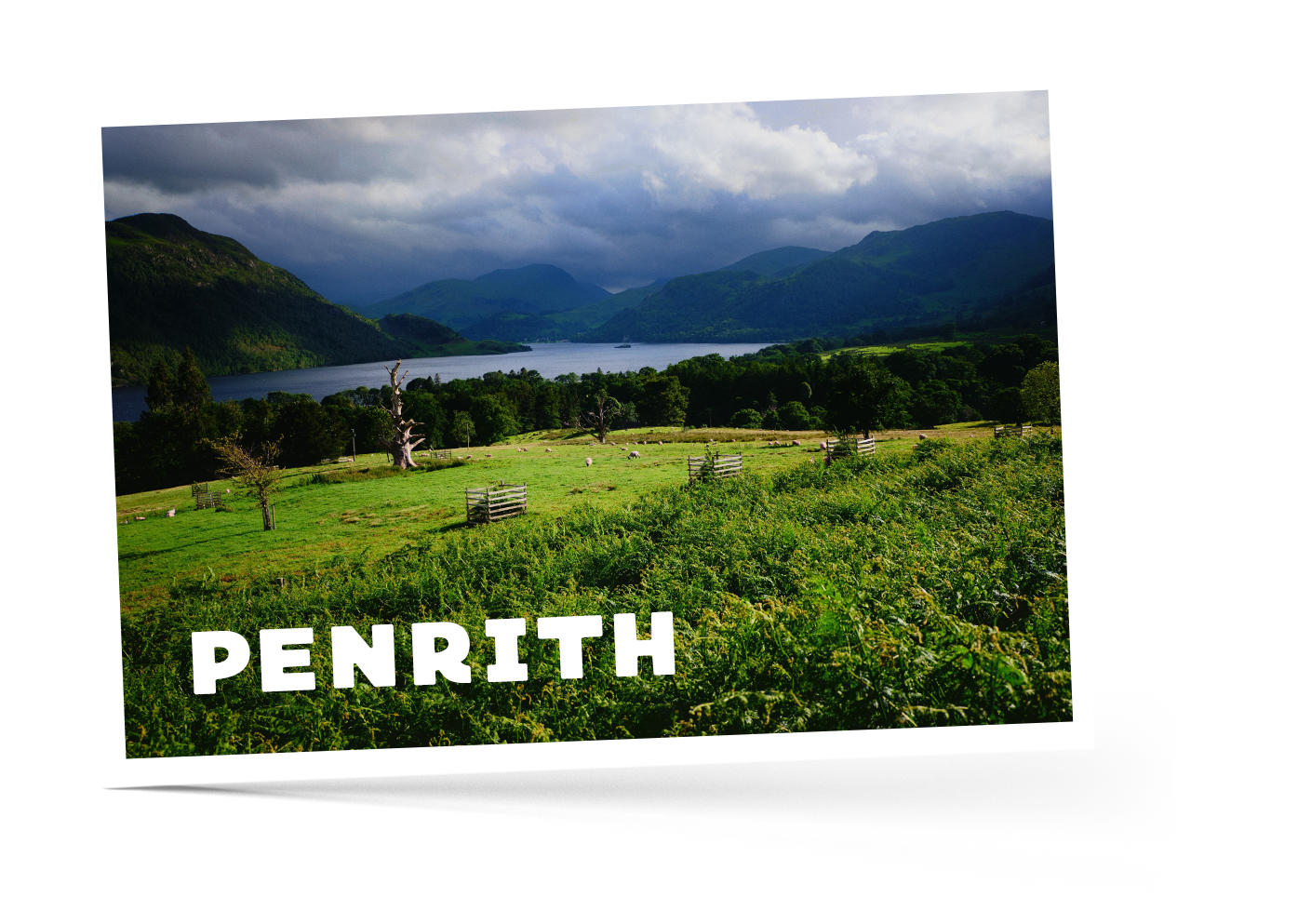 2. Penrith Found in Cumbria's Eden Valley, Penrith is a pretty market town, home to the raw upland beauty of the northeastern edge of the Lake District, as well as noble estates and castles that hark back as far as Medieval times. If you've a penchant for historical charm, why not stroll around the romantic ruins of Brougham Castle, explore the Grade I listed remains of Penrith Castle or marvel at the majesty of Lowther Castle & Gardens? If you're more of an outdoorsy type, there are plenty of activities for you to enjoy. Cycle along Cumbria's Sea to Sea Cycle Route, take a trek to visit the Neolithic stone circle, Long Meg and Her Daughters, or hike 286 metres up to the peak of Beacon Hill for the best views over the Eden Valley.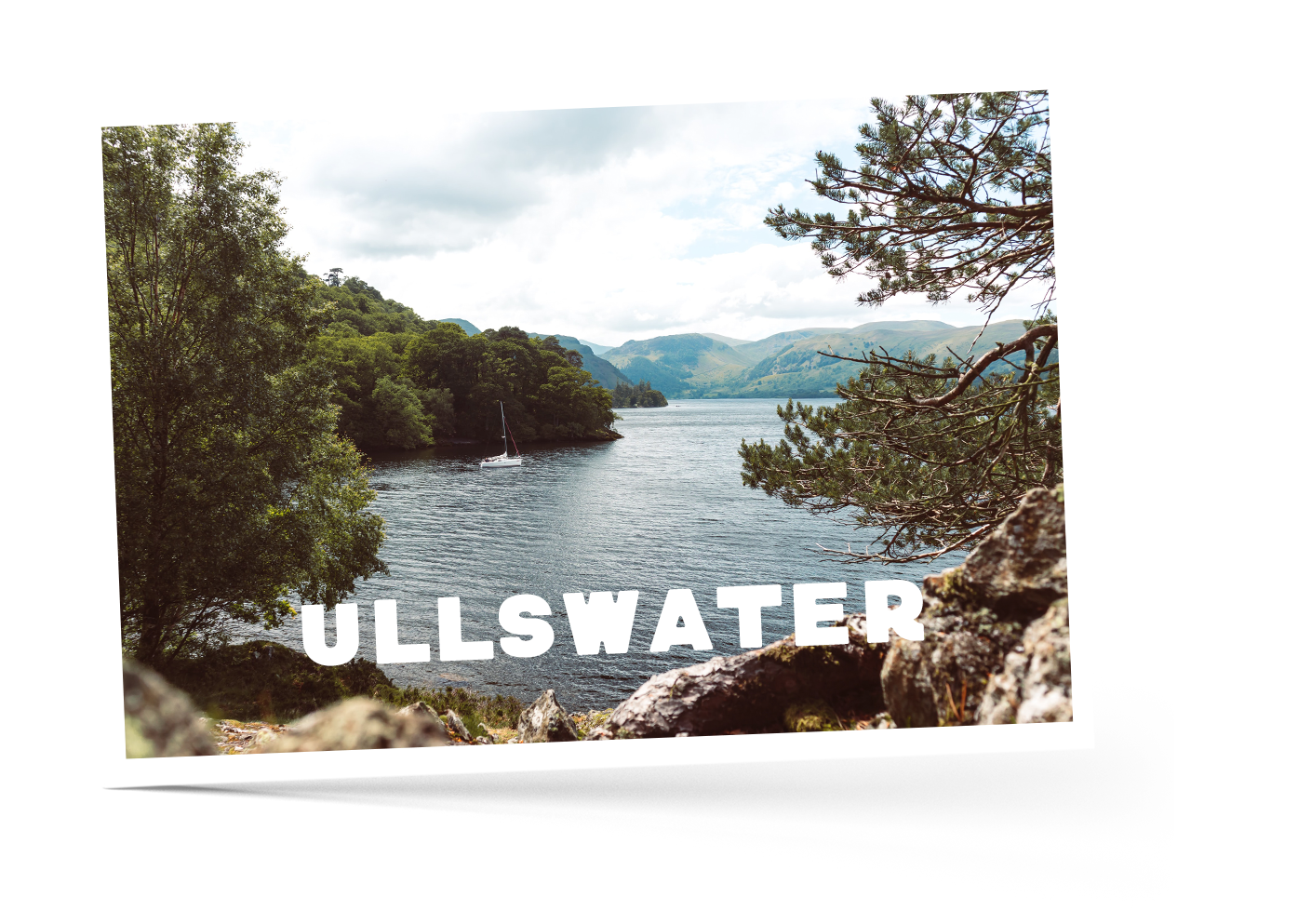 3. Ullswater Just south of Penrith, the beautiful lake of Ullswater is surrounded by incredible mountainous scenery to its south and romantic, rolling hills to its north. The second largest lake in England, Ullswater is lined with pretty villages, including Glenridding, the perfect base from which to start out on walking trails to the nearby summits of Howtown, Helvellyn and Pooley Bridge.
On the western side of the lake, you'll find the enchanting Aira Force waterfall, a natural wonder with a beck that plunges down into Ullswater Valley – a sight so impressive that it inspired the works of William Wordsworth himself. If you're looking for a picture-perfect spot, this is it.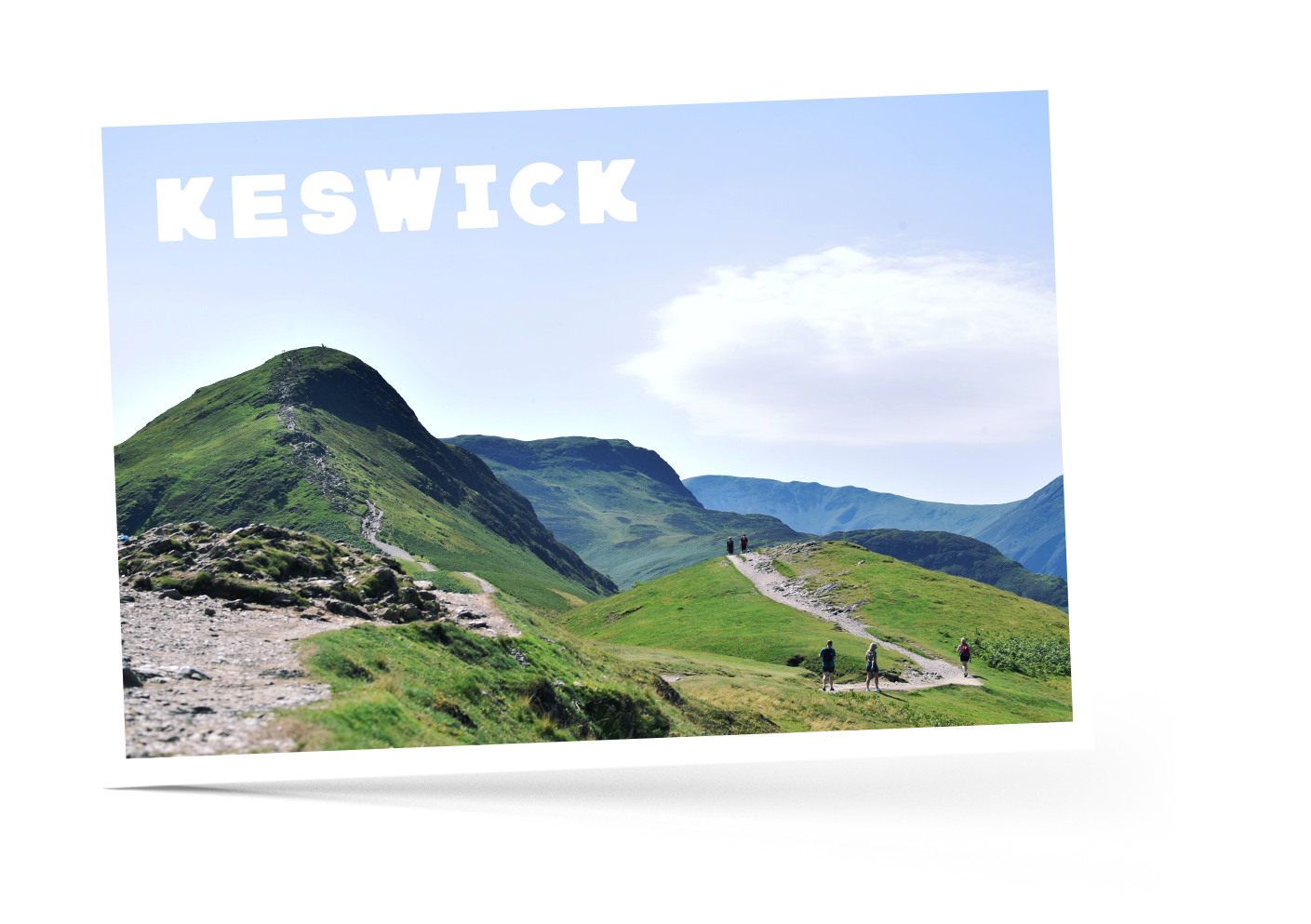 4. Keswick If you want to escape the bustling crowds of Windermere and Ullswater, venture north to the calmer lakes and valleys of Keswick. Ramble along the fells, get stuck into some serious Ghyll Scrambling and embrace your inner adrenaline junkie with the array of thrilling water sports on offer! In 1276, King Edward I granted the town its market charter and to this day, Keswick's charming market opens up its stalls to the public on Thursdays and Saturdays. Pick up artisan sweets and treats, knitted hats, handcrafted trinkets and a loaf of freshly baked bread to eat later on in your adventure!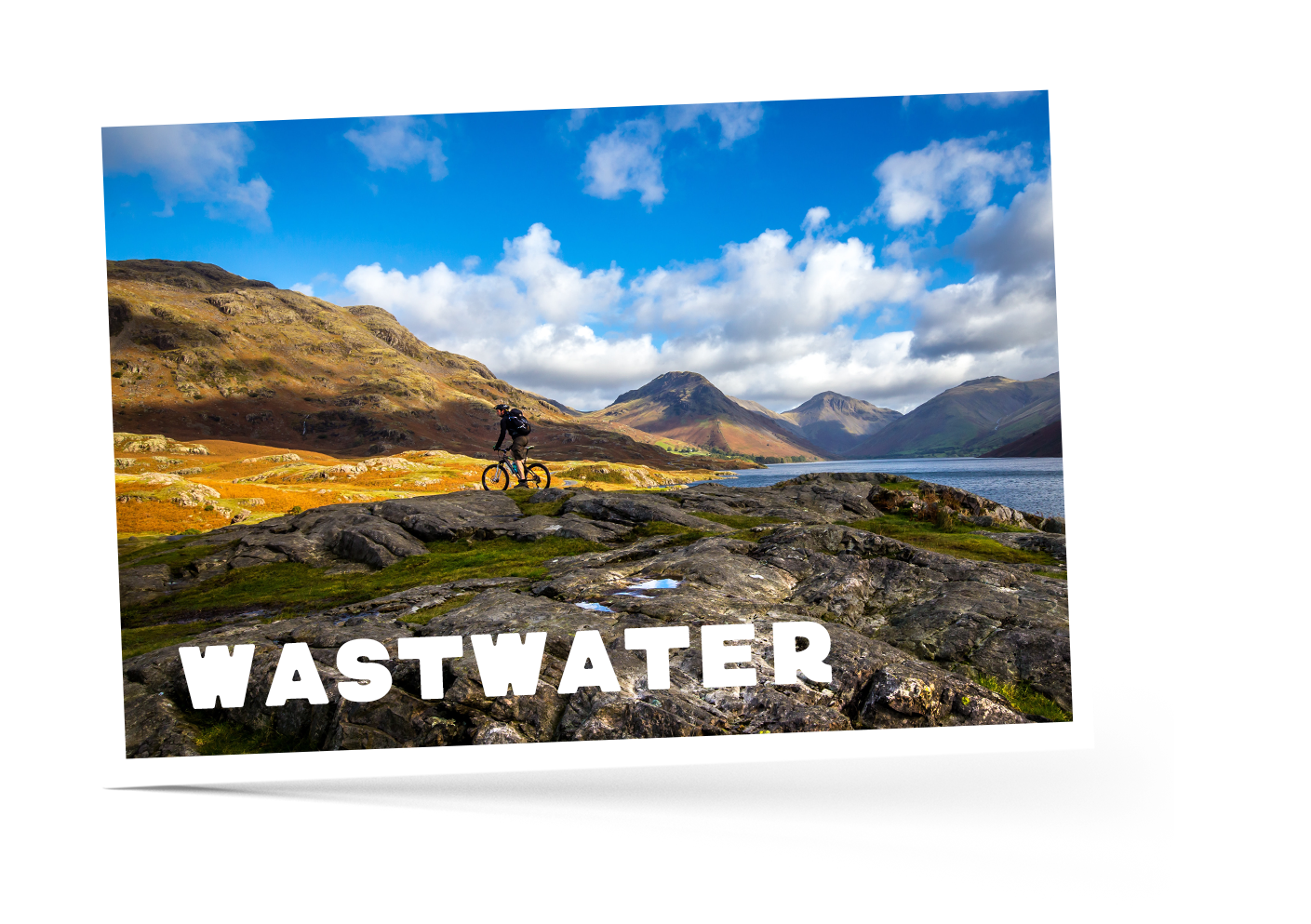 5. Wastwater Voted Britain's favourite view in 2007, Wastwater is truly a sight to behold. Surrounded by towering mountains, screes and lush greenery, Wastwater is the deepest of the Lake District's lakes and perhaps the most magnificent.
Situated in Wasdale Head, a quaint hamlet in Wasdale Valley that's well known for being the starting point of many a Cumbrian walk, it's not hard to see how the landscape of Wastwater has fired up the imagination of countless poets, painters and explorers across history.

Things to do in the Lake District
With so many Lake District attractions to choose from, it's hard to know whether you're picking the best ones to pack into your visit! From sailing on Lake Windermere to conquering Scaffel Pike and sightseeing on a Segway, the Lake District has something to inspire every explorer who's looking to tick Cumbria off their wanderlust list.
Things to do in the Lake District with kids
Is the prospect of getting the kids to put down their screens and embrace the great outdoors keeping you up at night? Fear not. The Lake District has so much to offer a young family after a staycation jam-packed with fun frolics and adrenaline-pumping activities. From meeting meerkats to treetop adventures, the Lake District is sure to put a smile on your kids' faces and have them tired out and ready for bed by 8pm – dreamy.

Where to stay in the Lake District
After a long day of sailing lakes and scouring summits, you're going to need a comfy bed to rest and recuperate. From boutique escapes with tantalising tasting menus to luxurious glamping in the wild, you can book the perfect Lake District hideaway to suit your taste. Here's our pick of the best of the best.

When is the best time to visit the Lake District?
The Lake District's charm knows no bounds and is truly an all-year-round destination.
In spring, you might need an extra layer to combat the brisk temperatures, but it's well worth it to witness the boundless bluebells and daffodils blossom as the frosts of winter melt away.
In the summer season, prep yourself for endless amounts of sun-soaked activities. From hiking trails to rowing boats, summer is the perfect time to immerse yourself in nature and embrace your inner explorer. You could even take a dip in one of the lakes!
Autumn is also a great time of year to conquer some of the larger mountains when temperatures don't climb quite as high. You can practice your photography skills by capturing the stunning autumnal panoramas by day and cosy up in one of the Lake District's charming rural pubs by night.
And finally, winter in the Lake District – the most magical season of all. Perfect for those looking for idyllic snow-topped surroundings, the higher peaks can receive as much as 60 days of snowfall a year, meaning you'll be in for snowflakes, icicles and glaciers galore. Now is the time to explore the quaint towns of the Lake District and immerse yourself in their poetic history as things start to get Christmassy.

Wanting to browse more UK short breaks?