Affiliate Programme
Want to generate additional revenue from your website? Enter the exciting world of e-commerce by joining the Buyagift affiliate programme. We've teamed up with SaaS platform Partnerize, to help administer our affiliate programme. Their powerful platform means that we'll be able to manage every affiliate directly – and provide more opportunities for you! As well as their sophisticated reporting suite, a huge benefit to you as our partner is faster payments. You can expect to receive money in your account within 24 hours of sales being approved. Once you have joined, gain access to your new online account, featuring helpful tools to monitor commission earnings. Simply watch them grow!
Why join?
Buyagift is the UK's leading provider of experience days and gift experiences like beauty treatments and spa days, driving and flying thrills, short breaks and gourmet dining experiences. By purchasing a gift experience for a loved one, you're not just giving them a thoughtful present, but a wealth of memories to enjoy for years to come. With over 9,000 experiences to choose from, Buyagift has everything you could possibly need to make someone's special occasion, unforgettable. We have an amazing range of 2 for 1 deals and offer super savings all year round. Our affiliate channel is one of our main revenue drivers – working with over 2,000 publishers. We have a dedicated in-house team who will always go that extra mile for you by helping with any enquiries. Our regular newsletters will keep you up to date with our latest offers. But if you're looking for something specific, please get in touch and we will try our best to help!
Key benefits:
Earn up to 10% commission per confirmed sale – paid on the full amount including postage and packaging!
Access to regularly updated, automated product feeds with over 9,000 products including images, descriptions and deep linking URLs
Average order value is £80 – meaning that average commission is up to £8 per sale
Take advantage of our regular affiliate-wide discount codes and offers. Our discount codes are valid on special offers too – your visitors can achieve savings of up to 65%!
Monitor your progress through Partnerize – utilising reporting on links, banners, clicks and sales
We take care of purchasing, fulfilment, customer service, tracking of sales and commission payments
30-day cookie period
How does it work?
Follow these steps to get started as our affiliate:
Join our affiliate programme on Partnerize
Read the programme's terms and conditions to ensure your affiliate activity is in line with our guidelines
Set up your affiliate links (for help with this, either contact affiliates@buyagift.com or refer to the Partnerize help guide)
Drive targeted traffic to Buyagift.co.uk
Generate sales and get rewarded with commission
Once you see a constant flow of sales generated every month, contact us with your ideas on how to grow performance and how we can work closer with you!
If you have brand to brand partnership ideas, please contact partnerships@buyagift.com
Commission policy
Buyagift rewards affiliates on a last-click basis, meaning the affiliate must be the last referrer in order to be rewarded. Buyagift will also attribute sales to affiliates where they assisted in a converted brand search where the PPC brand or SEO click is right after the affiliate click. Allowing affiliates to earn commission on sales that would've normally been lost. Our cookie window is 30 days. To encourage incremental activity, Buyagift will continue de-duping affiliate sales which were introduced by SEO, PPC or CRM channels in the last 24 hours before the conversion. Buyagift do not de-dupe against any other channels.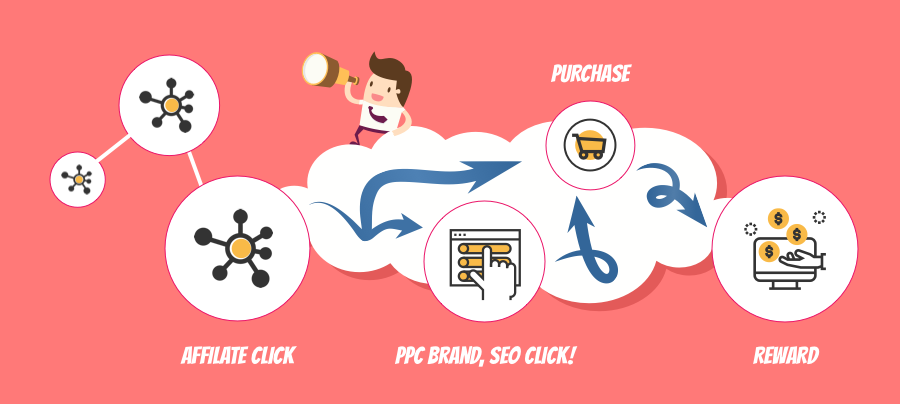 Commission levels
Our commission is paid on the full sale amount, which also includes postage and packaging! Expect to earn a competitive commission rate of up to 10% on all products. 

We take pride in our close, working relationships with our affiliates. So, if you need any assistance signing up to the affiliate programme on Partnerize or want to find out more about our existing Awin partnership, please e-mail us at affiliates@buyagift.com and we'll get back to you as soon as possible.
Are you a content affiliate or do you run content-led campaigns!?
Now, both content affiliates and affiliates running content-led campaigns can be rewarded more fairly by joining our comMISSION Possible initiative. Learn more about our bespoke, one-of-a-kind offering for content publishers, developed by Buyagift here.