Christmas Presents for Mum

Your wife... She's the one who has been planning Christmas for months and has bought you a pile of presents. So many husbands leave buying a Christmas gifts for wifes until the last minute.
That's not a problem when you purchase online with us. An extra added bonus is that you don't have to face the high street on Christmas Eve.
Christmas Gift Ideas For The Wife Who Has Everything
Maybe she's had afternoon tea (https://www.buyagift.co.uk/food-and-drink/afternoon-tea) before? But probably not at Harrods, with a tea tailor on-hand. She may be a great cook, but would she turn down a day at Raymond Blanc Cookery School at Belmond Le Manoir (https://www.buyagift.co.uk/food-and-drink/full-day-cookery-course-at-the-raymond-blanc-cookery-school-br-10772482.aspx). When it comes down to it, no one has everything and we guarantee experiences in our range that will more than make her Christmas, from food and spa and beauty, and much more!
Best Christmas Presents For Wives
The best kind of Christmas gift ideas for wives score highly when they evoke emotion. If she screams in delight, you'll know that you have hit the jackpot. Whether it's adrenaline or luxury, adventure (https://www.buyagift.co.uk/adventure) or indulgence she is into, when you give your wife a unique gift for her, you're safe in the knowledge that our range of options are bound to float her boat.
up to 50% off!
Christmas Special Offers
Incredible Christmas gifts, massive savings!
SHOP NOW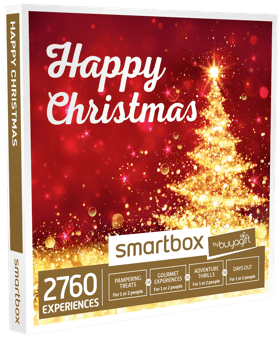 Can't decide? Let them!
1000s of experiences to choose from, all wrapped up in a glossy gift box
Explore the range

For Mum
Stuck for inspiration? Here's some of our favourites!

Did you know?

All of our experiences can be posted to you or your chosen recipient, or sent instantly as an e-voucher via email