Christmas Gifts for Friends

Friends appear in all walks of your life. From old friends to new friends, work acquaintances to best friends, it's sometimes tricky to decide what to get them for Christmas. But rest assured, we're here to help you on your way to find the perfect present this year.
Christmas Gifts For The Best Friend
Firstly, we're disappointed that you've had to come here to get advice on what to get your best friend for Christmas – considering you've probably known this person for quite some time. Secondly, we forgive you! It can be a minefield shopping for family, let alone friends. How about an excursion to remember from our amazing range of days out? Or perhaps your best friend would enjoy some time to indulge with you over some scrumptious scones and clotted cream from our popular afternoon tea range – washed down with a glass of bubby, of course.
Christmas Gifts For The Work Colleague
So, you probably don't want to dip as low as the Secret Santa budget and spent £10 on a friend from work, because that's for the work acquaintance you probably aren't friends with anyway, right? So, we have the perfect selection of gifts under £50 to inspire you this Christmas. From three course meals with a glass of wine at ASK to a chance to dress up for a day at the races, we have the perfect work buddy gift sorted.
For The Friend With Kids
Is your friend constantly on to you about having no good ideas for weekend adventures with the kids? Well, put those problems to rest with a fun-filled day out for the kids from our extensive adventure experiences for children. Perhaps you'll choose to let their kids swing from the treetops at Go Ape? Maybe they'd enjoy a white-knuckle ride in a speedboat? Maybe even indoor skydiving? With every other kind of kids' experience in between, you're sure to hear about the smiles all round.
up to 50% off!
Christmas Special Offers
Incredible Christmas gifts, massive savings!
SHOP NOW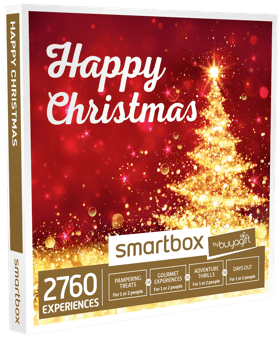 Can't decide? Let them!
1000s of experiences to choose from, all wrapped up in a glossy gift box
Explore the range

For Friends
Stuck for inspiration? Here's some of our favourites!

Did you know?

All of our experiences can be posted to you or your chosen recipient, or sent instantly as an e-voucher via email