If there's an enthusiastic foodie or a wannabe gourmet in your life who you want to treat to the ultimate gastronomic delight this Christmas season, then look no further than our incredible range of food and drink gift experiences.
Want a unique Christmas gift for your grandparents this festive season? You've probably exhausted your ideas, and bought them all the slippers, smellies and sweaters they will ever need. Thinking up Christmas gift ideas for grandparents can be tricky, especially if they are anything like ours. They probably say that they don't need presents anyway, all that matters is spending time together at Christmas. With our wide range of Christmas gift experiences, you can give them some much needed quality time with a loved one, with memorable and unique days out. From adventurous flying experiences to relaxing short breaks, there is plenty for you to choose from!
Lovers Of The Life Of Luxury
If your grandparents are the indulgent type who love a little luxury, maybe an afternoon tea at a stunning garden or stately home is just what they need. They can enjoy delicious sandwiches and scones at Windsor Castle, the Hilton Hotel or better still, at the Rubens - the closest you can get to taking tea with the Queen herself! For other mouth-watering delights, why not treat them to some fine dining with our range of food and drink experiences, or maybe the added luxury of a theatre show?
Preened And Pampered
Perhaps your grandparents deserve a well-needed break and a chance to relax from a busy Christmas. Treat them to one of our spa days, massages or body treatments at a stunning UK spa and you'll be in their good books for the whole of the next year!
Flying Enthusiasts
For flying fanatics and absolute beginners alike, there is no greater thrill than flying in the open cockpit of a Tiger Moth. Used during World War II by the Royal Air Force to train its pilots to fly Spitfires and Hurricanes, this is the ultimate nostalgic aviation experience. Fly high with our range of vintage plane flights, balloon flights, thrilling helicopter tours and more.
Great Escapes
What about considering a luxurious overnight stays? Our selection of hotels include contemporary, luxurious facilities and those with historic charm, which are sure to win over your lucky grandma and grandpa!
up to 50% off!
Christmas Special Offers
Incredible Christmas gifts, massive savings!
SHOP NOW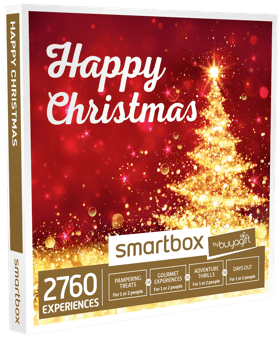 Can't decide? Let them!
1000s of experiences to choose from, all wrapped up in a glossy gift box
Explore the range

For Foodies
Stuck for inspiration? Here's some of our favourites!

Did you know?

All of our experiences can be posted to you or your chosen recipient, or sent instantly as an e-voucher via email